Partners

The cooperative project is coordinated by the working group on tropical ecology of the State Museum of Natural History Karlsruhe.

German partners are animal ecologists at the University of Marburg, environmental biologists at the Technical University of Aachen and environmental analysts of ECT Ecotoxicology GmbH Flörsheim.

Brazilian partners are the soil scientists and botanists of the State University of Paraná (UFPR) in Curitiba, as well as a 'stakeholder', the conservation organization SPVS, founded 1984 in Curitiba.

Reserves belonging to the SPVS serve as investigation areas for the project. Besides, the SPVS supports the project through the provision of infrastructure and geological, botanical and historical data of the areas.

As part of a Brazilian Mata Atlântica - Network and in cooperation with international organizations such as 'The Nature Conservancy' SPVS tries to protect the last forest areas on the coast of Paraná and to regenerate large areas through reforestation.

In the meantime the State Museum of Natural History Karlsruhe and the Brazilian partners realized common activities in the fields of environmental education and public relations.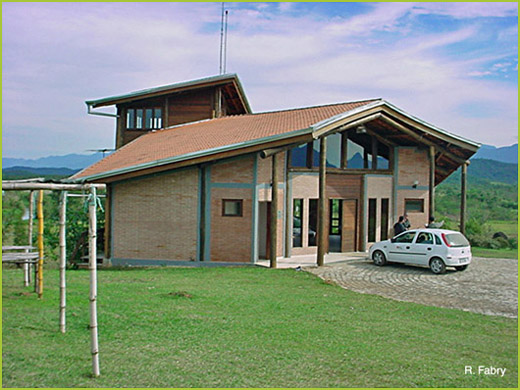 Education building of the SPVS